Welcome
نبذة عن المدارس
Our History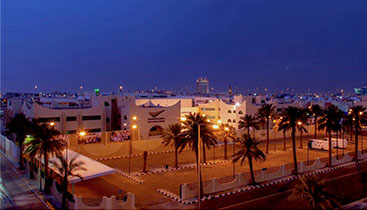 We, in Dar Al Uloom Schools, believe that education is a noble mission and we are committed to giving our young people a breadth of learning and the range of skills that they will need to take their place as the leaders of tomorrow. We do so in the context of Islamic values and ethical system that we hope will ensure that they exercise that leadership with wisdom, compassion and humility. We also encourage and reward participation in school sports and strive to promote healthy active living among students. In other words, we pay attention to all student personality's aspects; whether religious, moral, psychological, scientific, cognitive, or even sports and health aspect.
Dar Al Uloom Schools always seek to adopt the most modern teaching methods and educational technology. So, we equipped our schools with modern curriculums and courses, wise competent educational management, and highly-qualified and experienced teaching staff who are capable of dealing with the students from different age groups. Our prime target is to enhance our students' leadership skills and innovation and to boost their creativity and their sense of responsibility. Dar Al Uloom Schools' teaching staff are equipped to meet our modern times needs professionally and to fulfill students' parents expectations.
Dar Al Uloom Schools apply international standards and styles of education that offer a rigorous curriculum aimed towards academic success at acquiring Arabic language as well as English language, which has become the most widely spoken language in the world. All courses are appropriate to students' developmental stages, and a well-rounded education is offered.
We endeavour to provide all students with 21st century skills. Our understanding of the ever-changing world guides us to prepare our students to be global citizens who care about international issues and equipped with the right skills.
Our schools create a positive learning environment, where all feel welcome and thus we can expand the learning happening. Students' energy and drive to engage, learn, work effectively, and achieve their potential at school, play a large role in students' interest and enjoyment of school. We also believe that technology is an increasingly important aspect of modern school life and has dramatically changed the way teachers and students go about their daily activities.
Dar Al Uloom Schools employ all these educational aspects to keep students engaged and to create inviting classroom environment. We are committed to providing high-quality education for all students through an internationally recognized curriculum in a disciplined, safe, nurturing and positive learning environment.
That is the goal behind establishing Dar Al Uloom Schools in Riyadh; to prepare students with the necessary skills to be able to continue their education in reputable international institutions. We strive to offer an educational environment where students are exposed to the latest technology and teaching methods by fully qualified educators in a facility that has been specifically equipped for this purpose.
Towards that end, the first Dar Al Uloom School was established in the month of Rabi-ul-Thani, Year 1417 AH. (Corresponding to September, 1996) on an area of (100,000m2) with a modern architectural design. We pride ourselves in being one of the leading schools, providing an exceptional education to children from Kindergarten to Secondary School Stage.
The Schools are located in close compounds to achieve the complete separation between boys and girls, to make them more accessible for the parents, and to ensure ease of mobility and safety for the students and the parents as well. Our schools offer a very wide range of curricula – whether national or international – for girls and boys. The schools include classrooms buildings, administrative buildings, facilities, and activities buildings.